From Seattle, Bite Society Drives The Gift Basket Revolution
On March 12th, 2020, Lendy Hensley and her partners had a successful catering business. On March 13th, 2020, they had an empty kitchen. Once a mainstay in the greater Seattle area, City Catering had to reinvent their business to adapt to the changing times or risk losing everything they had worked for.
"I went home and watched TV for about two weeks," said Hensley, smiling and shaking her head. "Then, we got to work. It was pretty clear that the pandemic was not going to be a short thing."
Luckily, Hensley and her partners, Katy Carroll and Bob Pennington, pulled through with a new idea—one that would allow them to salvage their existing recipes as well as make room for a new swath of innovation and creativity. It was an idea that took a local business and turned it into something country-wide. This is how Bite Society was born.
"I had always been interested in the idea of doing gift baskets," said Hensley. "And I believed that gift baskets were not nearly as fun as they could be. That's the point, right? For them to be fun?"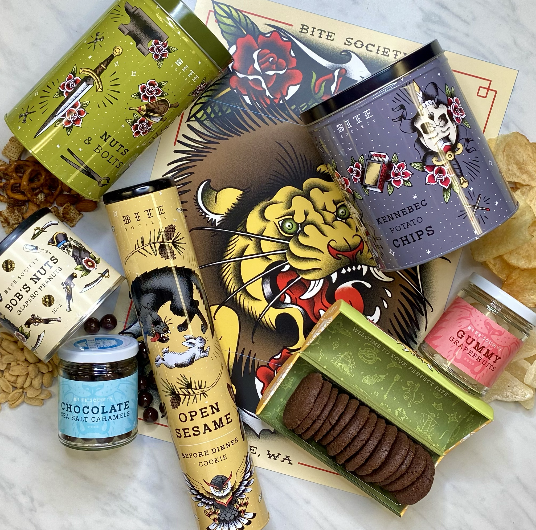 Hensley and her partners shifted all focus from catering to creating and promoting Bite Society, a woman and LGBTQ+ owned gift basket company that boasts creative and high-quality design and packaging.
Bite Society places a heavy emphasis on locality and working with local businesses, partnering with local Seattle tattoo artists to create flash-tattoo designs and imagery for the packaging on their individual items and gift packages.
"All of our cooks had tattoos, and at the time, all the tattoo parlors were shut down," said Hensley. Hiring those out-of-work tattoo artists was a natural way for Bite Society to reach the community around them and establish a unique brand.
In the beginning, Bite Society's greatest challenge was reaching further than the scope of the greater Seattle area.
"Catering is a very local business," said Hensley. "Somebody can pay you a lot to drive very far, but it doesn't happen often. E-commerce is a different business."
Bite Society had to figure out how to change their licensing to account for an E-Commerce business and alter their recipes to work well in a packaged format. They spent seven months working on these changes and pushed go on their website in December 2020.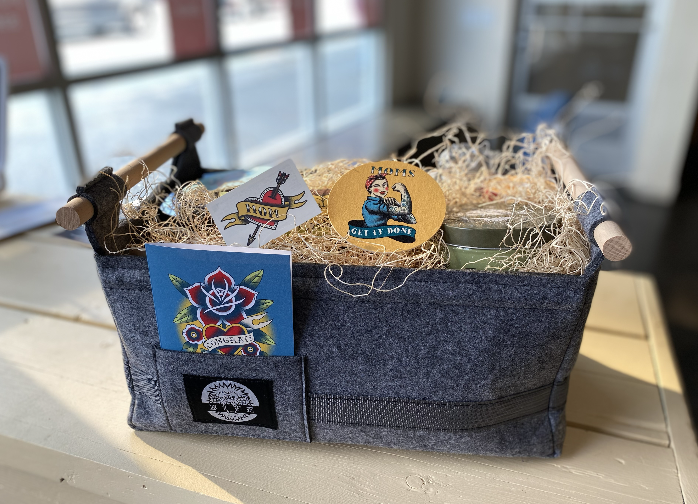 Today, Bite Society possesses a large customer base and ships curated gift baskets country wide. However, they don't forget their Seattle roots, staying close to the community around them and sourcing and selling locally. In addition to their Seattle themed gift baskets, which contain locally sourced products such as smoked Coho salmon and Beecher's Flagship cheese, they market and sell their products at one of Seattle's most famous landmarks.
"Pike Place Market was a natural point of outreach for us," said Hensley.
The widely known Seattle market and tourist attraction receives ten million visitors a year, and Bite Society's coveted guest vendor stall catches the eye of around six million of those visitors.
"We love the direct retail at Pike Place Market," said Hensley. "The idea of working at a place that has such an emphasis on local artists and vendors really gives us a framework for going forward."
In addition to working with and supporting local businesses, Bite Society places a heavy emphasis on the quality and cleanliness of their products.
"We have a philosophy of clean labels," said Hensley. "For example, when you turn over one of our chocolate chip cookies, you're going to see flour, sugar, butter, vanilla, chocolate chips—just basic, good ingredients."
While Bite Society has unique and clever package designs, with one example being their "Sister Carol's Mustard Chip," packaged with an image of a nun holding a mustard bottle, the product is equally as important as the appeal.
"We didn't want to just be a gimmick without good food inside," said Hensley.
Bite Society is constantly innovating new recipes with the help of head chef Bob Pennington, with whom Hensley recently developed an espresso cookie.
"It's a lot of tasting and trying, deciding what works and what doesn't. We spent the entire summer of 2020 tasting food," said Hensley, while laughing. "Right now, we're working on a tasty savory cookie. It's just iterations, taking good notes, making sure you know what to adjust."
Hensley and her partners are constantly coming up with new quality products, designs, and business ideas, making Bite Society a forerunner and a unique competitor in the gift basket business. With tons of corporate clients and holiday gifting orders, they're already starting to gear up for this year's holiday season—and to them, it's a challenge and a joy, never a burden.
"I haven't done anything before that I loved quite as much as I love this," said Hensley. "It combines two things I'm pretty passionate about, which are food and art. And I can't imagine a better way to do it."