From France to Seattle: Impressionism in Today's Pacific Northwest.
*Valerie Collymore is a passionate teacher and painter located in the greater Seattle area. Find and purchase the finished works of all the talented artists featured in her "Color and Impression" show here*.
"Try not to smile, but I'd label myself a modern day French impressionist," said Valerie Collymore. "It sounds really lofty, but someone's got to do it."
The artist and instructor's new gallery show, "Color and Impressionism", opened at the Parklane Gallery in Kirkland, Washington on August 9th, 2023.
Collymore spent her childhood in Southern France, where she spent days picnicking on Renoir's farm, running around and climbing the olive trees. She largely attributes her love of impressionism to growing up in the country where the style blossomed and came to fruition.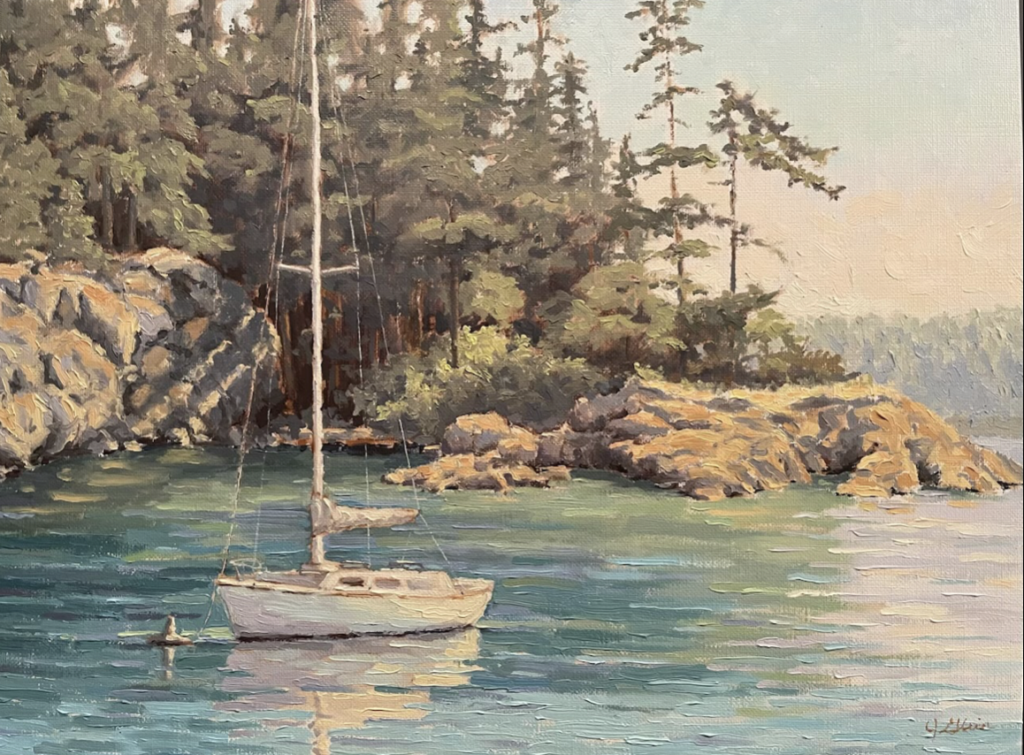 "Island Dream" by Judy Glein Snell. Snell aims to "illustrate man's connection to nature" through a series of paintings depicting the houseboats and sailboats of Seattle.
Collymore defines impressionism as an art form where hard lines are replaced by soft lines, giving the viewer a chance to redefine the painting in their own minds. "Color and Impressionism" was designed to allow Collymore's artists to paint in a loose way, giving each artist the ability to discover their authentic artistic voices. The show features the work of thirteen of her students, a capstone to their hard work in Collymore's Atelier classes.
"There's landscapes, there's seascapes, there's still-lives," said Collymore, elaborating on the types of artwork featured at the show. "We even have one person doing the Seattle thing and painting houseboats. They're really stunning."
One of the artists, who is painting underwater scenes in a realistic way, has Tetrochromacy, or an extra color vision cell. This is a one out of several million genetic difference that means her sense and perception of color is much more attuned than the average joe's.
"Point Lobos" by Glenn Krauss. Krauss, who has tetrochromatic vision, was inspired by her childhood "spent on the Oregon coast and among the foothills of the Cascade Mountain Range".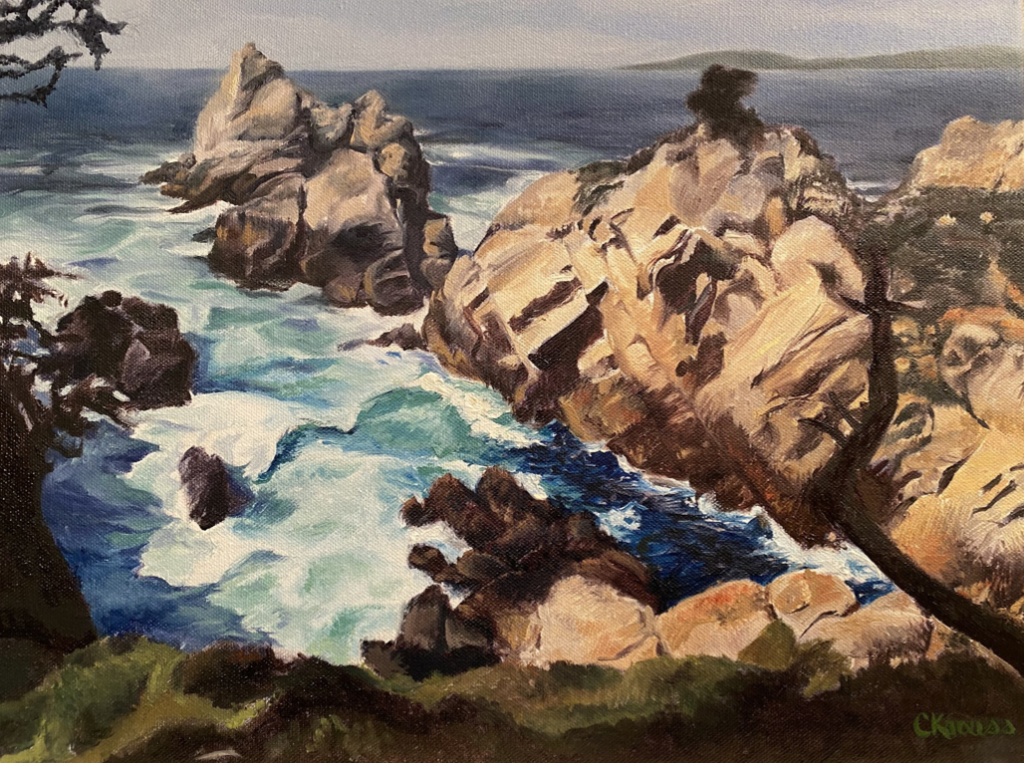 Teaching in a one-on-one, online format means that Collymore can plan her lessons around the intense schedules of her working students and give those who are serious about improving their artistry the focused attention that they deserve.
"I use the online annotation tools to make comments on their works in progress, which is fantastic," she said. "I would never touch anyone's paintings in person. I find the online teaching much more efficient."
Before she became an art professional and instructor, Collymore worked as a physician. Since many of her students are working professionals, Collymore draws on her previous experience in the regulated field of medicine to help the artists maximize their time and efforts.
"They give a lot to it outside of their duties," she said. "People like the idea that there's a show at the end, and that induces them to stay and study longer. We have a Microsoft engineer, people in finance, people in healthcare. A nice mix of people participating in the show. They work hard. I've structured it in a way that they can do it."
"Octopus Embrace" by Lyn Smallwood. Smallwood, who is Seattle-based, pays selective attention to "color and sensual layering" in her vibrant collection of natural scenes.
The show is being held at the Parklane Gallery, a co-op that has been an artistic establishment in the Kirkland, WA area for 31 years. To Collymore, the energy and vibrancy of the art inside a venue is what makes it special.
"They give a lot of artists a chance a shot at hanging somewhere on a wall," said Collymore. "There's a lot of opinions out there about where you show, but to me, a wall is a wall. It's what you do with it and who you bring in that matters. I think the gallery is doing a fantastic job. They've survived the ups and downs of the economy. And I am so honored that they're letting me show, because it's not something that everybody gets".
*The Parklane Gallery is located at 130 Park Lane, Kirkland, Washington. "Color and Impressionism" is showing until September 3rd. Featured artists are: Patrice Begovich, Jackie Bellows, Russ Federman, Ahana Ghosh, Glenn Krauss, Leanne Hergert, Coral Lehtinen, Mary Morrison, Heather Oesting, Rebecca Robinson, Lyn Smallwood, Judy Glein Snell and Wendy Stein*